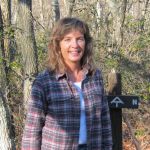 In my recent email announcement about the release of my book, In the Shadow of Porter's Hollow, I promised readers would find a blog post explaining the pen name (nom de plume, pseudonym) I am writing under.
My dad, Edd Testerman, was from Grassy Creek,  North Carolina. If the place sounds familiar, that's because it is in the book. But please don't think my dad was anything like Glen Porter, though I did draw on some of the stories he used tell me about the area.
Anyway, I am the fourth girl out of  five in a family of six. (I had one brother, but he could never be mistaken for a Cindy.) There was an old country song Dad grew up with in the south called Get Along Home Cindy, Cindy. He used to sing it to all three of my sisters born before me. He called them all little Cindy's. So when Mom got pregnant with me she told him if this one was a girl she was going to name her Cindy, and they gave me her middle name, Yvonnie.
When the birth certificate came, however, it read Cindy Yvonne Testerman, without the 'i'. So my middle name is actually Yvonne. I chose to use it for two reasons. No offense meant to any other Cindy's out there, but I felt it didn't look as dignified on a book. And I can't rightfully use Cynthia because that's not my name. Although, I got called that all through school by teacher's who refused to believe it was 'just Cindy' as I repeatedly told them.
But I also feel like I'm carrying on a family tradition by using my middle name. We called my oldest sister by her middle name, though she goes by her first name now most of the time. My mother was called Vonnie for her middle name though she mispronounced it as a child and ended up being called Bonnie. I also have several aunts who have always gone by their middle names, at least until recently, and other family members as well. I used to wish my parents had done that with me. It was a southern thing.
Schuchart, however, is the last name of my fantastic fiance. A sweet special man I love dearly. We're planning to get married soon. So, I decided it was better (with his blessing) to use it as my writing name. Then I won't have to change things in the future. He's been my biggest cheerleader and supporter through this process, I couldn't have kept at it without knowing he believed in me.
So there's a lot of history and personal reasoning behind the name Yvonne Schuchart. But the real clincher is,  I like the look of it on my book cover. It's a name I hope to put on a whole lot more books in the future.
Stay with me for updates.