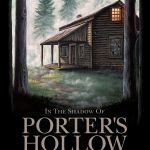 In the Shadow of Porter's Hollow 
The book I've been working on, and promising to keep followers up to date about, is available now on Amazon in e-book and paperback, https://www.amazon.com/Shadow-Porters-Hollow-Yvonne-Schuchart/dp/1942430868/ref=sr_1_1?ie=UTF8&qid=1475016200&sr=8-1&keywords=in+the+shadow+of+porters+hollow
Here's hoping readers find the finished result intriguing and entertaining!
I worked with Demi Stevens at Year of the Book Press for about nine months to pull this book together, though it all began more than two years ago. I started on my own but found myself struggling to stay motivated, and at a loss about how to find a publisher. Then in October 2015 I attended the York Book Expo and discovered Demi.  I also found a network of friends and writers among the local authors featured there. All in all it's been a great experience.
However, I have decided the writing process is like being pregnant, for however long it takes you to finish a book.  At some point you finally go into labor, and it's a marathon birthing session, but eventually you push that little bugger right out of your hoo-hoo and it bursts out all red and screaming for attention. (Sorry male readers if this offends, but it's so apt.)
That's where this baby is now. A wriggling, wailing newbie crying to be seen and read. Please look it up and enjoy the read, and if you are so motivated, I welcome reviews on Amazon. I would also love to hear from you through my website.
PS:  Laura Evans and Blaine Wilson still have unfinished business, and Curry Porter and the beast are still out there. There is a sequel coming, so stay with me. I'll keep you posted.
Demi Stevens at Year of the Book Press http://yotbpress.com
York Book Expo   http://yorkbookexpo.org