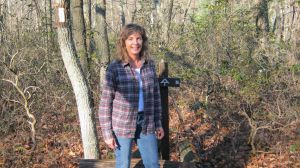 YVONNE SCHUCHART
Yvonne Schuchart is a writer who lives in South Central Pennsylvania. She holds an Associate Degree in Social Sciences and is a member of the Alliance of Independent Authors, and the Pennwriters organization. Yvonne has written feature stories for the York Daily Record in York, Pa,  and her articles and poetry have appeared in various publications.
She enjoys long drives, nature, hiking in the woods and mountains, long motorcycle rides on warm, sunny days, and working her way through the growing stack of books on her nightstand.
Yvonne is the mother of four adult children, and has two grandsons and one granddaughter. Her nearest claim to fame is being born in the same hospital, the same year as Cal Ripken, Jr. of the Baltimore Orioles (about two months later however).
PERSONAL HISTORY
Born in Havre de Grace, MD on October 24, 1960, my father moved our family of seven at the time (the oldest was already married), to South Central Pennsylvania when I was seven and I have lived here ever since. I love this area. I graduated high school from Red Lion Area Sr. High in 1978, and have worked many odd jobs in this place over the years.
I've been a waitress, a seamstress, a department store warehouse clerk, a defense factory clerk, a counter-clerk for a butcher at a local farmer's market, a babysitter, newspaper freelancer, ran a small horse farm boarding horses and giving riding lessons, was a cook in a residential boy's home, went on to become a Youth care Worker at the same place (a sort of direct care social work with adjudicated youths), a bus driver in the York County area, a Chiropractic Assistant, and most recently obtained a Certified Nursing Assistant certificate and I now work in a nursing home.
I went to College at the tender age of 49, while working full time and obtained an AA in Social Science after almost three years. I have also taken many writing courses and love attending writers conferences.
Setting to work on a book length project at 55 was part of the fulfillment of a life-long dream of becoming an author. Anything more (which I hope to have many) will be icing on a literary cake.
LOVES
My children and grandchildren; my wonderful man; my handsome Harley; horses; nature; hiking; reading; writing; front porches and back decks; artistic endeavors into making things, refinishing furniture, crocheting, etc.; restful sleep; and the occasional lazy day of nothingness with a cup of tea, or two, or a glass of wine; oh, and Orioles baseball—though not necessarily in that order of priority, depends on the day.
INTRIGUED BY
Dreams; the paranormal; the unexplained; behavioral sciences (human interactions, animal behavior–what makes us all do what we do); family relationships; environmental issues, etc. (see my blog).