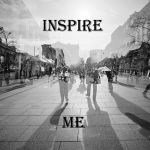 WHAT INSPIRES YOU?
What is it in life that gets your blood pumping? Makes you say, "Wow!" Keeps you going when you'd otherwise want to give up. What makes you think, I'd love to be like that? I'd love to have that kind of motivation, that kind of energy, that kind of heart.
What kinds of things–sights, words of inspiration, pictures, songs, experiences lift you up; make you believe you can be better, accomplish more, create more, care more? What interactions have you had that left you feeling the world isn't such a bad place after all? That there is hope, that you can take that next bold step. Things that maybe allowed you to take those odd happenstances, the awkward exchanges, the unexpected detours life puts in your way and use them to grow and change, at least a little.
I'm looking for interaction. I want to know what happened in your day that inspired you. I  promise to share things back on occasion, but what I really would love to have happen, is to create a space where many people drop in to share their thoughts and daily experiences to encourage and inspire us all.
Looking forward to the exchange!