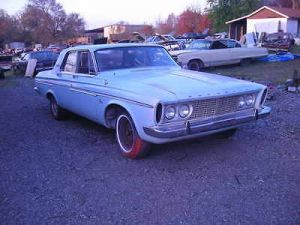 The first car I ever drove was my Dad's four door, hard top, 1963 powder blue Plymouth Fury III with 3-inch wide chrome strips down the sides, (and in my memory at least) a mammoth steering wheel, and get this, push button gears. It was long, it was sleek, it was shiny, and under its bonnet was a 318, V8 engine. Dad loved himself a good Chrysler product, and this one cost him an extravagant $300.
At fifteen, I learned to navigate the rugged back roads around Shrewbury, Pennsylvania from behind a hard, cracked, blue plastic wheel wider than my whole body. But it was 1975 and that old boat had seen a lot of miles. It was a punishing task for the old gal to teach a fifteen year old how to drive, but it was necessary. I had a job at Windy Hill Dairy Bar. A real job I had to get to—two, sometimes three days a week. At just over $2.00 an hour, it paid enough to put some gas in Dad's guzzler and leave a little jingle in my pocket, and I could look forward to a few extra days a week come summer.
But this was winter. My first winter behind the wheel, and this one was attached to my father's powder blue Plymouth Fury III. So even though I had a driver's permit, Dad decided he should take the wheel that day. The snow was already coming down hard and fast, and the weatherman warned we'd have several inches before it was over.
By the time he came back to pick me up, there was more than a foot of the white stuff on the ground. While the main street through town was open, the plows hadn't gotten to the back roads. Dad pushed on toward home anyway taking Hain Road to avoid the worst drifting, a little longer than Plank Road but it was more sheltered. Even so, the old Fury had to push snow like a plow the whole way. Still, she was strong, and bold, and brave as the white spray flew up over her fender and pelted her windshield.
The old gal pushed on about five miles, all the way to Rehmeyer's Hollow, a locally famous area haunted by the ghost of Nelson Rehmeyer. (He was murdered in his own home by a young man who thought Rehymeyer had cursed with him with an old fashioned Pennsylvania Dutch hex.) Ironic that it was there the blue fury lost traction as smoke billowed up from her tailpipe, and steam poured out from under her hood. Dad and I climbed out pushing snow hard with her doors. He looked under the hood and waded knee deep the whole way around her shaking his head and mumbling, but it was no use. The old gal was dead in a snow drift.
I didn't look forward to the long walk home through Rehmeyer's Hollow, but I couldn't hold it against her.
As we set out, I turned to take one more look back at the old girl in the deep, blinding white stuff. Her pale blue bulk seemed to sag. The last puffs of white steam escaped from under her hood with a sigh, and I swear there was water puddling like tears in her headlights before she faded from view.
Sad to say the old blue Fury was hauled away and interred in the local junkyard and I never saw her again. But, she had been my teacher, my mechanical guardian, my safe passage on the fast lane to adulthood, and she had lived to give her all, just like Dad.
I like to think if they have cars in Heaven, Dad is driving a beautiful blue Plymouth Fury III, and thinking of me.
∼∼∼∼∼∼∼∼∼∼∼∼∼∼∼∼∼∼∼∼∼∼∼∼∼∼∼∼∼∼∼∼∼∼∼∼∼∼∼∼∼∼∼∼∼∼∼∼∼∼∼∼∼∼∼∼∼∼∼∼∼∼∼∼∼∼∼∼∼∼∼∼∼∼∼
If you'd like to learn more about the story of Nelson Rehmeyer go to http://bit.ly/2gmT91p or you can order the video, Hex Hollow: Witchcraft and Murder in Pennsylvania on Amazon at http://amzn.to/2fpWeMe