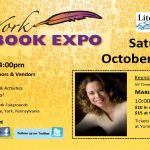 This year's Book Expo is coming up soon! October 15th at the York Fairgrounds Memorial Hall. So excited because this year, I will be there on the other side of the table. I will have my own book on display for sale that day. I just can't get over the whole idea.
Please drop by, and be sure to look me up. Just to note my pen name is Yvonne Schuchart, but if you know me you'll recognize me as Cindy Zimmerman. I look forward to talking with you.
Come enjoy the free wine tasting and a taste of local Pennsylvania writer's works.